Help I Lost My Pictures!
Have you ever lost pictures or documents on your computer or storage devices? Well I have and it's frustrating but with the help of a computer software program called Recuva you can get it all back. Better yet it's free!
This summer I took a lot of pictures on my phone camera. I had a 8 gig external card in it that I use to send all my pictures I take, plus I had folders of pictures of family and friends to easily show when out and about. One day my phone was acting up and I had to shut it down a few times. I didn't think I'd lose my photos since they were on the external SD card card being protected – so I thought. Next thing I knew after I turned my phone back on all my photos were gone. How did that happen? I didn't make any changes to my external card. So I searched my phone over trying to figure out what happened but couldn't. I was devastated that all of my summer pictures I'd taken while out and about on my walks and events were gone; lost.
Then one one day I was talking with my sister about it. She told her husband then later texted me to say he had helped a friend recover his photos and thought maybe this program would recover mine. She said that it's a free program out on the internet. So it was emailed to me. It's called Recuva. I put my SD card in my computer, downloaded the program and scanned my card. I started with the basic scan which found some but not all. So I chose the advanced option and found everything. I was so amazed I couldn't believe it. It found everything on my card from photos, videos and a few documents. I'd had 650 photos that were lost but NO more.
In this article I'll share the Recuva link and walk you through some of the steps to this program. You'll be amazed and happy to recover your files. A true blue program in recovery times!
Recuva Link
This is a freeware program that will recover data from computers, SD cards and other storage devices.

Click here to take you the Recuva program link

.

After you click on download there are options you can buy the program but I'd try the freeware one first. Then if that doesn't work you can think about paying. I'm sure though the free link will work great; it did for me!
File Types To Recuva
Listed are four types of files that you would most likely recover. They are the most popular beside emails. Outlook and Windows emails can all be recovered as well and other kinds of files you may be have lost.
Pictures
Music
Documents
Videos
Recuva Features
Recuva is a Windows based software program. It can deep scan any of these kinds files and portable devices your need to scan. It supports every modern version of Windows and 37+ languages.
For more info on the Recuva features go to this link Piriform Recuva Features to read more all about it. To download the program go HERE.
Files on computer
Damaged or formatted disks
Emails
Ipods and MP3 players
Documents
Download Recuva
Click Download to get the program going. It will download into the bottom toolbar. From there click on it and follow the rest of the steps in the next section below.
Basic Files Recovery – Follow Steps 1 – 10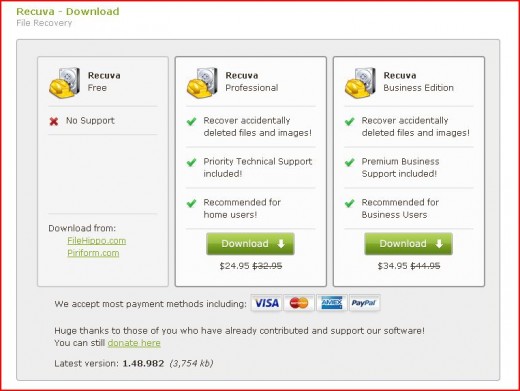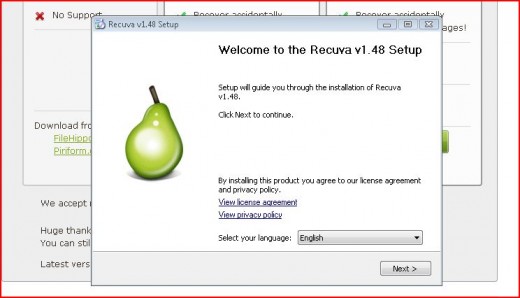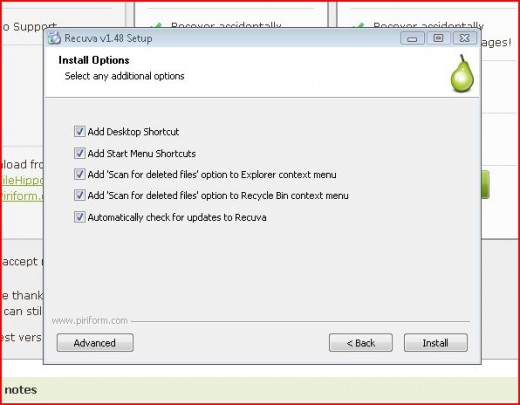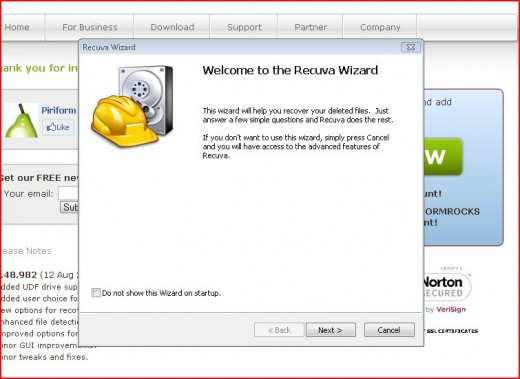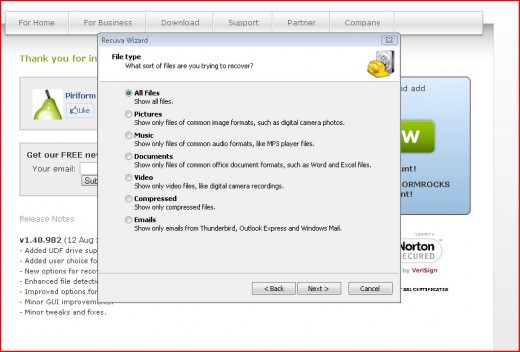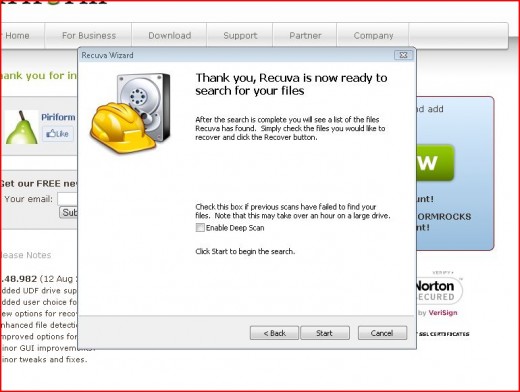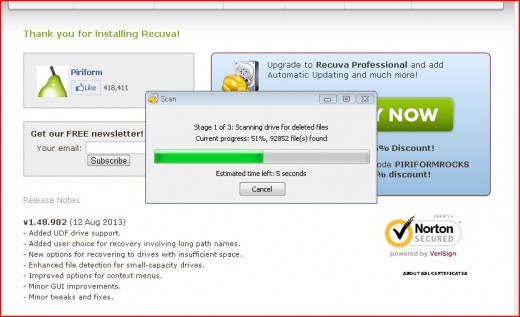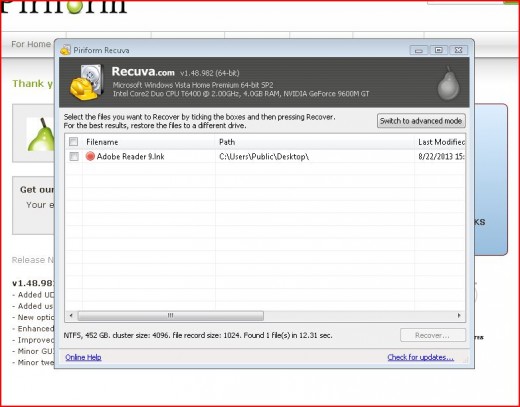 Advanced Features
In this screen you have four different drop down options to choose from. The first being All Local Disks. You can choose which disks to scan. The second option to is Scan. Here you can choose files or contents. The third drop down is choosing which file types to scan like photo's, documents, etc. Then the fourth is Options. Another screen will pop up with more options to choose from. You can follow these step by step in the below photos.
Advanced Files Recovery – Steps 1 – 5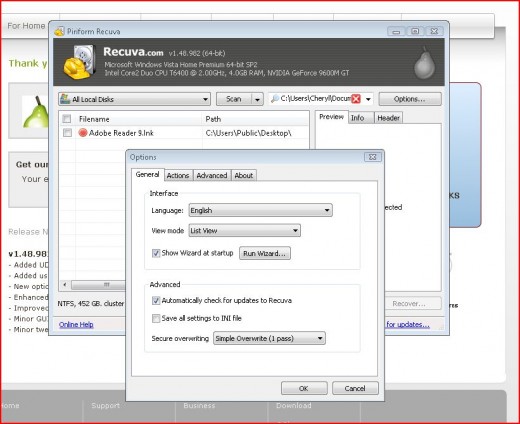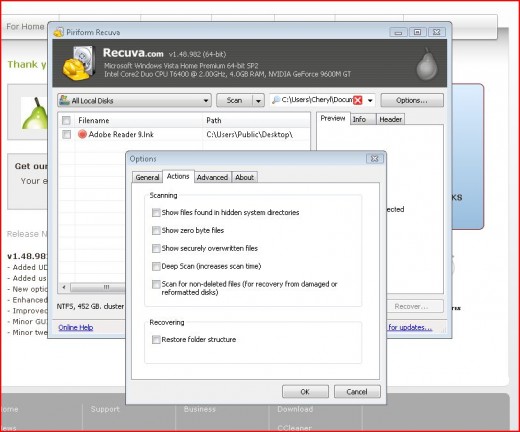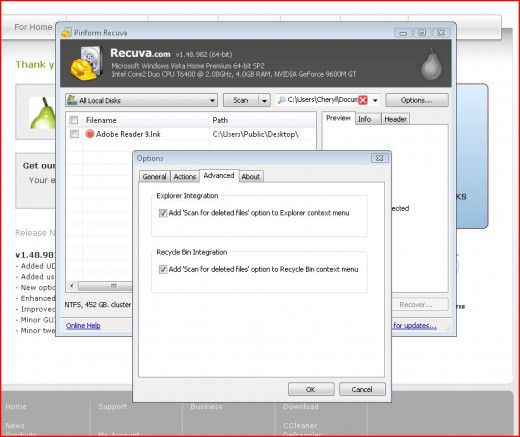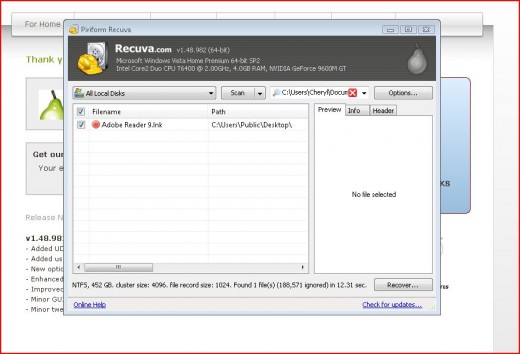 Recuva Recover Your Files – Last Step – Good Luck!
This will bring up more files than in the basic recovery. It works like a charm. From there choose the files you wish to recover. This will bring up another screen called Browse For Folder. Choose where you want to save your files and click Ok. Your files are now be saved and you can close the Recuva Program.
I used the "Snipping Tool" on my laptop to take screen shots of each step using the program to show how to use this step by step. I hope that is has been helpful and easy to understand.
 SanDisk 32GB Class 4 SDHC Memory Card

 SanDisk Ultra 32GB Micro Memory Card With Adapter

 16GB Cartoon Cow USB Flash Drive (White)

ABOUT THE AUTHOR