Salmon and Edamame, Brain Health Favorites.
Salmon with Edamame in Ponzu sauce is a dish that was a favorite restaurant dish of mine when I lived in southern California. With that restaurant now 900 miles away, I decided to try to create it myself. I think I did pretty well–it came out so tasty! Grilled salmon, one of the best foods for brain health, served with edamame, another powerhouse food.
Since we've had Alzheimer's disease in our family for over fifteen years now, brain health is a subject that has grabbed my interest and attention. I'm always looking for more recipes that promote a healthy brain. These two main ingredients, salmon and edamame, both fit the category very well.
Naturally it's another easy recipe too. It's a treat to find something that tastes so good, looks very pretty, yet still is a fast and simple meal to fix.
If you like to barbecue, grill this delicious fish the way you like it. This time I used a stove top grill to cook the salmon. Sometimes I will bake it for thirty minutes instead.
Edamame with the ponzu sauce is delicious! My grocery store had shelled edamame in the frozen section. If you can't find it already shelled, go ahead and cook it in the shells according to the package directions, then shell it once it is finished cooking (usually about six minutes).
If you have time, you can make the ponzu sauce the day before to let the flavors meld, but it isn't necessary. Ponzu is one of my new favorite sauces. It's just the right blend of saltiness and spiciness.
Of course I couldn't resist dipping the salmon in the sauce as well, so besides sprinkling it on the emamame, I'd suggest little dipping bowls accompany each serving. The salmon size pictured here is about six ounces, but a four ounce serving is the usual recommended serving size.
Hope you like it.

Rating 5 from 1 reviews
Prep time:
Cook time:
Total time: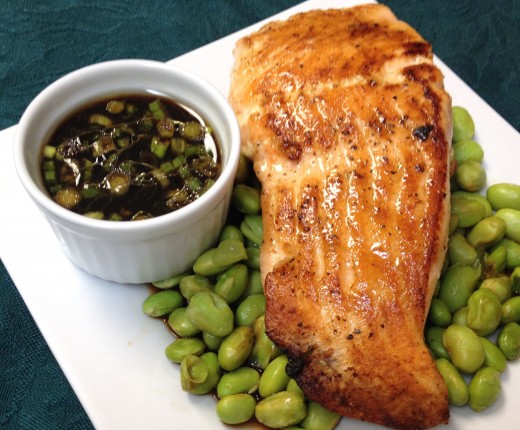 Ingredients
1 bag frozen edamame, shelled if available
4 servings of salmon
2 to 3 lemons, quartered
salt and pepper, to taste for the Salmon
PONZU SAUCE:
4 tablespoons low-sodium soy sauce
2 tablespoons fresh orange juice
2 tablespoons fresh lemon juice
1 tablespoon sesame oil
1 tablespoon sweet wine
1 green onion, finely chopped
¼ teaspoon crushed red pepper (optional)
Instructions
Cook edamame according to package directions, usually about 6 minutes. If still in shell, allow to cool slightly then shell and keep warm in a bowl. You may want to microwave for 30 seconds to 1 minute right before serving to ensure they are hot.
Mix the ponzu sauce ingredients thoroughly.
Refrigerate ponzu sauce for a half hour or longer. It's not essential, but does allow the flavors to blend.
Pan fry or grill salmon, with lemon juice, salt and pepper. I like to marinate for a few minutes in the lemon juice before cooking.
Place a ½ cup of cooked edamame on a plate, then top with salmon.
Spoon ponzu sauce on edamame, sprinkling some on salmon too if you wish.
Serve and eat while hot.
Brain Health to Prevent Alzheimer's Disease
As the former Alzheimer's and Dementia Contributor on an article writing site, I've spent quite a bit of time researching ways that may help prevent Alzheimer's. While there are no known treatments or cures, there are many ways suggested that lessen the chances of contracting the disease.
So many of us have experienced the disease with family members or friends. If you have, you understand why they refer to it as "The Long Goodbye." It is a long, deteriorating disease that may last often lasts more than a decade.
After studying several reports, I found there were several foods that made every list for a healthier brain. The food you eat, the exercise you get, and the brain training you do are three of the best ways to lessen your risk.
If you are interested in reading more about this, take a look at this handy guidebook has just been released. It contains tips and suggestions to help you.
Preventing Alzheimer's: A Useful Guide: Steps to reduce your risk and slow the advance of the disease
The Calphalon Grill Pan
This is what I used to cook this salmon. As with my favorite hard anodized cookware, this is a durable, effective, easy to care for pan. I love the convenience of stove top with the grill effect. Next best choice to the BBQ.
Calphalon Unison Nonstick 12-Inch Round Grill Pan
Thrive Energy Cookbook
Good for brain health AND energy! This highly rated cookbook has 320 pages of facts, ideas and recipes.
Thrive Energy Cookbook: 150 Plant-Based Whole Food Recipes
ABOUT THE AUTHOR