Saucy Seaside Postcards
Growing up in the 1950s, a visit to the seaside with my family was always a treat. One day, I was walking along the promenade when I saw a group of teenage girls giggling over a rack of postcards. I asked my mum what they were laughing at. "Mucky postcards", she said, "And you stay away from them!"
I didn't, of course, and I still have a soft spot for the bawdy humour on seaside postcards in Britain, particularly those printed in the 1960s and 70s.
Rude Britannia
Today, holiday habits in Britain have changed; day trips have replaced longer stays at seaside resorts, and text messages have replaced postcards, so you would be hard-pressed to find shops selling these cards in British seaside resorts, even in the brashest resorts.
A pity really, as these cards gave expression to human fears, frustrations, and libido in a harmless and arguably cathartic way.
The British have always willing to laugh at themselves and see the tragi-funny side of life, particularly when it comes to intimate relationships, coping with mother-in-laws, and exposing their bare skins to daylight.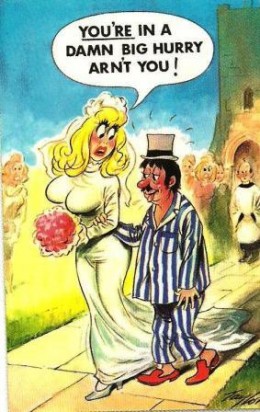 One company that built a reputation for producing the fruitiest postcards of the lot was the Yorkshire publishing firm of Bamforth & Co., originally based in Holmfirth, West Yorkshire. For over 100 years, Bamforth & Co. founded by James Bamforth (see the photograph above), was one of the leading publishers of British saucy postcards, traditionally bought at the seaside during a holiday stay.
Stereotypes
The Bamforth cards were populated with stereotypes, and every thing and anybody came into their target sights: fat people, thin people, nagging wives and hen-pecked husbands, oversexed and undersexed men and women, men with very small – or very large – genitals, women with big bosoms, small bosoms.
Marriages – beyond the honeymoon night – were often a battleground, with men turning to drink to drown their sorrows. Misunderstandings, innuendo, double entendre abounded, and physical defects – before it became politically incorrect to do this – were targeted, particularly vision-related ones. Short-sighted people, for example, particularly in nudist camps, were a rich source for the cartoonists.
The same jokes on these postcards were often cribbed from British Music Hall and variety show performers and later reproduced in the 'Carry On' films of the 1960s, and by comedians, like Benny Hill, who tapped into a vulgar streak in many Brits (including me).
Double Entendre
A common theme up to the end of the 1950s was in the use of words or situations that could be misunderstood, or with double meanings attached to them. But as British society became more permissive from the 1980s onwards, the jokes and images became cruder and more explicit – and perhaps contributed to the eventual demise of these cards.
Rapid Growth
In 1894 the General Post Office in England granted publishers permission to design and sell picture postcards that could be sent with a half-penny stamp attached to it by the sender – hitherto postcards could only be sold with pre-paid postage and with advertising graphics on them.
This opened up all sorts of illustrative design possibilities for publishers and tapped into the increasing travel and holiday opportunities opening up for the public. It was quite common by that time for families to go to the seaside for a week's holiday, and picture postcards became enormously popular with them as a record of the occasion.
James Bamforth saw the opportunity and the first twenty years of the 20th century were a period of rapid growth for the company. After 1902 James Bamforth, supported by his sons, Edwin and Frank, concentrated their production efforts on postcard production, at first using photographic models. But when James Bamforth died in 1911, Edwin and Frank saw the opportunity to produce their own drawings. The first outside artist they employed in 1912 was Douglas Tempest, a local graphic artist, who created the comic style that set the tone for the future, including the introduction of characters – particularly the henpecked husband and dominant wife
During the First World War Bamforth & Co made its contribution to the war effort by producing morale-boosting cards by poking fun at the Kaiser, but the 'saucy postcards' line continued, with the introduction of increasingly risque jokes (but tame by comparison with today).
The 1930 – 40s.
The 1930s saw a significant growth in the number of cartoon-style picture postcards produced. It is estimated that 16 million cards a year, produced by around six British printing companies, including Bamforth & Co., were sold during this period.
The social impact of these cards prompted even George Orwell to write an essay on the subject.
Orwell observed that the subject matter of the cards could be broken into around six main categories: sex jokes "…ranging from the harmless to the unprintable"; home life where "…there is no such thing as a happy marriage", and where " No man ever gets the better of a woman in argument."; drunkenness, which is often contrasted with teetotalism; lavatory jokes often involving embarrassing situations in public toilets or in the home; social class snobbery where both the habits and pretentions of upper class and lower class social groups are lampooned; and stock figures, particular Scotsmen (double entendre around Loch Ness Monsters and what is hidden under their kilts); swindling lawyers; serious vicars "…always a nervous idiot who says the wrong thing."; mother-in-law jokes; and very fat ladies , usually depicted wedded to very thin and submissive men.
1950s – Watch Out for the Watch Committees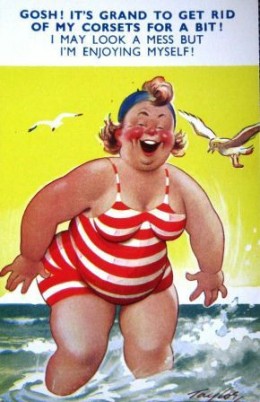 The Conservative governments of the 1950s felt that the post-war society in Britain was becoming too permissive and out of control; lewd postcards were regarded as just another aspect of this. This sense of disapproval led to retailers being prosecuted for selling the most ribald of these cards. At first, the police seized postcards they regarded as obscene and the shop owners selling them would be summoned to court. If the magistrates decided the postcards were obscene, the cards would be destroyed and the shopkeepers fined.
In 1950, Derek Bamforth, grandson to the founder, James Bamforth, visited Blackpool, one of the biggest retail outlet towns for his cards, to meet with the Chief Constable about the police campaign that had resulted in 14 Blackpool shop owners being fined for stocking his and other publisher's postcards.
Derek Bamforth's concern that the police should be the arbiters of decency in the town led him to campaign nationally for more independent and broader views to be applied to the matter. Later, and largely to protect shopkeepers, a censorship 'Watch' committee was set up in Blackpool to adjudicate and prevent the worst offending cards from going on sale in the first place. This policy was quickly copied across Britain.
Derek worked with the Blackpool Postcard Censorship Board to make sure his designs were acceptable; a shrewd move that was both cost effective and protected him from wider criticism. It marked out the company as a more responsible one and saved him from prosecution when publishers, instead of retailers, were targeted by some Watch Committees. For example, in 1954 the rival firm of D. Constance, and its chief artist, Donald McGill, were fined for obscenity at Lincoln Crown Court.
However, Derek Bamforth's defensive work at Blackpool did not always protect retailers in other parts of Britain from prosecution for selling his cards. A card perfectly acceptable in Blackpool might be rejected as obscene elsewhere. And the definition of obscenity was often stretched to ludicrous proportions – on one occasion to include jokes about flatulence!
The campaign postcards deemed obscene reached a peak in 1953, when over 32,000 postcards published were seized and destroyed by English police forces. But gradually a more tolerant approach crept in over the 1950s, and rapidly advanced post-1959 when Penguin Books were acquitted of obscenity for publishing Lady Chatterley's Lover in a paperback edition.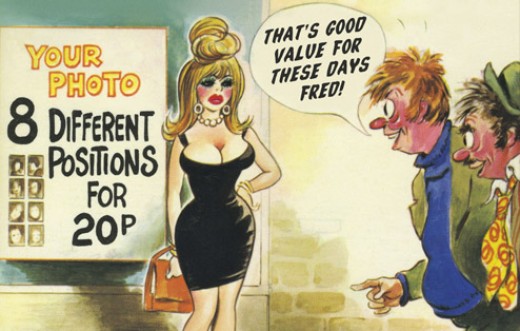 The 1960s Onward
By the early 1960s most censorship committees were fizzling out and Bamforth & Co were now selling their cards in Australia and South Africa and providing translation for the French, Dutch and Belgium markets – the cards previously banned by British censorship committees tended to be the best sellers!
The 1960s and 70s was the heyday for the bawdiest cards ever produced by Bamforth. But by the late1970s, the clouds were gathering over the cartoon postcard industry. A more politically-correct mood was in the air, and cartoons involving religion, race relations, feminism, and disability were now frowned on, if not outlawed.
Changing holiday trends in Britain also sounded the death knell for the company and in 1994 the Bamforth production was scaled down and moved to into the control of the publisher, E. Dennis & Sons. In June 2000 Dennis & Sons went bankrupt, but a Yorkshire businessman, Ian Wallace, purchased the Bamforth name with a promise that the postcard images would live on in other retail forms.
Last Word
George Orwell: " … they are a sort of saturnalia, a harmless rebellion against virtue … On the whole, human beings want to be good, but not too good, and not quite all the time."
---