Racy Ladies: Sheila van Damm.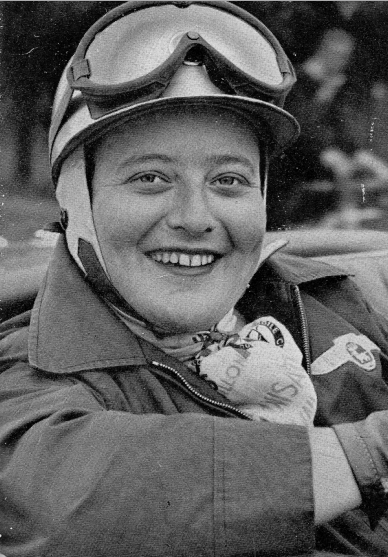 Sheila van Damm's career was interesting to say the least. She was known in the nineteen fifties as Britain's top woman rally driver and by the nineteen sixties she was running 'naughty' reviews on the London stage.
Yet she arrived at both careers accidentally.
You will most probably have heard of the famous Windmill Theatre in London. It shot to fame in the wartime years as it was the most risqué show in the country, featuring nude women.
It was Sheila's father, Vivian van Damm, who ran the theatre and introduced the saucy shows. Sheila was the youngest of his three daughters.
In 1942, when she was twenty, she joined the WAAF in which she worked as a driver. When she was demobbed after the war, she joined the RAF and became a pilot.
We now fast-forward to 1951. The Daily Express newspaper, which for many years was a sponsor of motorsport, was organising a national rally. Vivien van Damm saw this as a great way to publicise his theatre, especially as he chose Sheila and one of her sisters, Nona, to be the 'Windmill Girl' team.  This was just the beginning.
In the years to follow she competed in many major international rallies. with well-known co-drivers such as Elsie Wisdom and Anne Hall. When she retired from the sport in 1956, she returned to the Windmill Theatre – where she had worked periodically since her teens – and inherited the ownership when her father died in 1960.
There is a wonderful video of her starting work at the theatre here:
There can sometimes be (sigh) a schoolboy-ish assumption that any woman who succeeds in a 'man's world' (sigh again) must be a lesbian.  This is as ridiculous as the 'assumption'  that women in motorsport are /were rare (sigh number three). But as you can see from the related articles below, Helle Nice was enthusiastically heterosexual (starting her career as a stripper) whereas Violette Morris was decidedly gay (ending her life being shot as a Nazi collaborator). And Sheila?
When Vivian died and left the theatre to his daughter, he had instructed that it should be closed after his death. Joan Laurie was the partner of journalist Nancy Spain – the pair were openly in a lesbian relationship and good friends of Sheila's – and it was she who persuaded (or maybe bullied?) Sheila into keeping the theatre open. This could have saved Sheila's life.
As a close friend of Nancy and Joan's, she was invited to accompany them to Aintree racecourse when Nancy was to write coverage about the Grand National.  Nancy decided that the best way to get there was by air and departure was set for the morning of  March 21st 1964. At the last minute though, Sheila was unable to make it to the plane was there were issues at the theatre that needed her attention. She told her friends that she would make her own way to the racecourse and meet them there.
On its approach to Aintree, the plane crashed, killing everyone on board.
Sheila arrived at Aintree with her sister Nona about three hours later. They had heard that a plane had crashed nearby but did not make the connection. When they discovered though, Sheila had the job of identifying the bodies of her friends. She also arranged for their funerals. Afterwards, she destroyed many of their personal papers.
Just over six months later, she closed the Windmill Theatre for good and retired with her sister Nona to the country. She died 'after a long illness' in 1987 at the age of sixty five.
---
In 2005 a splendid film was made about Vivian van Damm and the Windmill Theatre. It featured Judi Dench playing the part of Mrs Laura Henderson who had inherited the theatre. (She left it to Vivian in her will).
One of the best lines in the film is when Mrs Henderson sees Vivian naked and observes:
"Why, Mr van Damm, you are Jewish."
See the trailer below:
The DVD is available on Amazon.
ABOUT THE AUTHOR