Shrimp Burritos Anyone?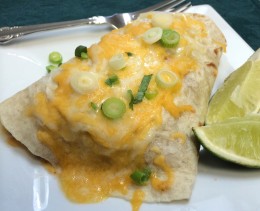 A shrimp burrito is one of the dishes I missed most when I moved from the San Diego area to southern Oregon. It was always a favorite to-go order from a local fish taco restaurant.  Bite sized morsels of shrimp, combined with beans, cheese and spices…
No wonder it was so popular!
So I decided to make one myself.  Turns out it wasn't difficult to achieve.  It isn't an exact copy.  The restaurant has its secret ingredients, after all.  Plus I added a few extra ingredients.  Still, the burritos tastes wonderful, enough so that it brings back memories.  It may be healthier besides.
You can use your favorite beans cooked in a slow cooker.  I like to do a batch of those now and then to have in the freezer for quick meals. Other times I will open a can of fat-free refried beans. One can is plenty when you add in veggies.
Secret Ingredients…
The veggies are my own secret ingredient.  Either finely chop the cauliflower, or rice it.  That is use a grater so that it is the size of rice. The Ninja Master Prep Professional can do that for you in less than 6 seconds if you have one.  Finely chop the spinach as well.  Once the cauliflower is sautéed in the olive oil, along with the garlic and onion, it's simply a few minutes more to stir in the beans.
Prefer vegetarian?  If so, you can stop at that step.  The burritos taste delicious without shrimp or meat added.  If you are going to try it with shrimp, stir it in, heat, and you are ready to make up the burritos.
You can use any size shrimp, though personally I'm not as fond of the small ones.  Using medium or large ones cut into chunks, you will find a better texture and flavor.  It doesn't take that many of them.
The combination of the cauliflower, spinach, beans and shrimp is so tasty and so satisfying!   It's a perfect way to increase your servings of vegetables too, without even realizing it.  Both blend in with the beans beautifully for one of the most delicious burritos you'll ever have!
You'll find the complete recipe here  Shrimp and Veggie Burritos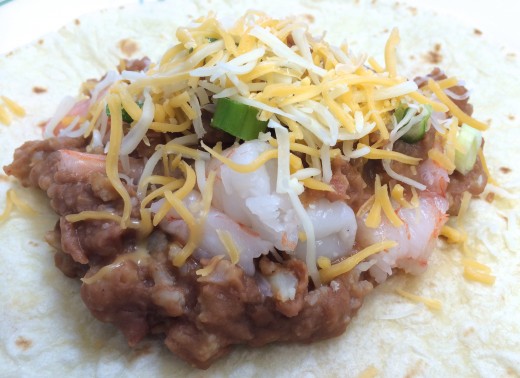 ---
ABOUT THE AUTHOR