Early speed trials at Daytona, Florida.
The name of Barney Oldfield was making headlines on March 16th, 1907. They proclaimed that he was the 'speed king of the world'.
At that time, the public – and experts -pondered about that sort of speeds the human body could endure and Oldfield – seen on the right – had just become the fastest human being on earth.
He had driven his Benz at over one hundred and thirty one miles an hour along the now famous Daytona Beach. He too wondered if man would ever travel at an even greater speed. He explained that he 'seemed to lose the ability to see'at such a high speed.
He went on further to explain that he had called the drive to a halt because he could feel that if he went any faster, he would lose consciousness.
And at that time, Daytona Beach was the place for such speed records to take place.
In France, drivers were attempting speed records on the regular open roads. The English were using the Pendine Sands in Wales. And there was a rumour that ideal conditions for speed driving was to be found in the bed of a dried up lake near Cape Town. Nevertheless, the chairman of the recently formed AAA  told the press 'Daytona Beach is superior to any other site presently known. There the sand is as smooth as glass … and is so wide that even a blowout seems to offer little danger'.
You see, concern wasn't only about the effects that high speeds would have on the human body- surely tyres wouldn't be able to survive such high speeds?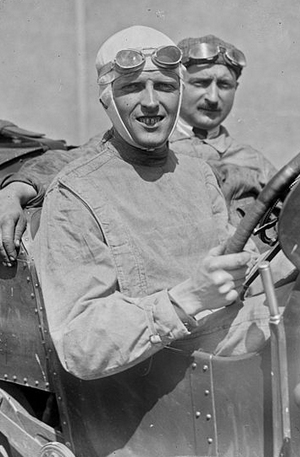 But Oldfield's record was broken in 1911 when Wild Bob Burman was clocked driving at 141 mph, also on Daytona Beach. Yet the Brits were hot on his heels thanks to Dunlop, the tyre company that exists to this day. The company had been founded in the UK in 1891 and their engineers agreed that they would helpthe man who had driven at over 150 mph in England, Major Henry Segrave. (That's him pictured on the left.)
His new goal was to reach the enormous speed of a full two hundred miles per hour. The Dunlop engineers worked on suitable tyres for him and eventually delivered them, warning him that they believed that they would not last for more than three and a half minutes if driven at the speed of 200 mph.
Segrave decided that his attempt would take place at Daytona. On his first run,the car was buffeted by a huge gust of wind that swept him and the car into the Atlantic Ocean but he put on a new set of tyres, climbed back into the car and achieved the speed of 202.7 mph.
But a contender was in sight. Back in the UK Malcolm Campbell, a man who had been a distinguished pilot in the Royal Flying Corps in the First World War, was considering his own attempt.
Segrave continued though and in 1929 he broke his own record when he achieved the speed of 231.45 mph along Daytona Beach. Campbell was determined to do better and he did.
This was two years after Segrave's record breaking run. Once again at Daytona, he reached the speed of 246.09 miles per hour. Both he and Segrave were knighted for their record-breaking drives but that doesn't mean that they were content to rest on their laurels.
Sir Malcolm broke the 250 mph barrier at Daytona in 1932 and as you might imagine, he then set his sights on reaching three hundred. He returned to Daytona for the next three years but didn't manage it. Eventually he decided that there would be no further records set on the beach. The wind and the waves interfered with any greater speeds.
From then on, the drivers used the salt flats of Utah and Verneuk Pan in Africa for further land speed record attempts. But the legacy lingers because Daytona Beach remains one of the few that can be driven upon.
What happened to these pioneers of motorsport?
Barney Oldfield died of a heart attack in 1946 aged sixty eight
Wild Bob Burman was only thirty one when he was killed when his racing car overturned at a track in Corona,California. This was in 1914. This prompted Barney Oldfield to develop the roll cage. Three spectators were also killed in the accident
Henry Segrave also raced speedboats. In 1930 he was attempting the water speed record on Lake Windermere in England. He broke the record but his boat crashed on its return run. He was informed that he had broken the record just before he died. He was thirty three
Malcolm Campbell also pursued water speed records. He died in 1948 after a series of strokes at the age of sixty three.His son Donald followed in his father's footsteps and was the only man to hold both the land and water speed records in the same year (1964). He was killed during a water speed record attempt in 1967. He was forty five
 ABOUT THE AUTHOR