Beck.
'Beck' is one of seven poems carved on rock and located in moorland in the South Pennines area of Yorkshire.
All the poems, written by Simon Armitage, feature water in one of its many forms.
To find this one you have to hike up and alongside a tumbling beck on Ilkley Moor. You stumble on it, almost by accident, and there it is. The Beck Stone
(Images: all the photos you will see have been taken by me).
The 'Beck Stone'
Backstone Beck rises high on Ilkley Moor and in its short course to join the River Wharfe in the valley below it tumbles down deep ravines scoured into the peat. A footpath runs for most of its course alongside the beck and, about half way down the hillside, a path through the gorse leads you to a twist and dip in the stream.
Here the water cascades either side of a boulder, dislodged centuries ago, and now resting upright on the stream bed. A small grassy knoll forms a natural viewing platform for the visitor
On the rock is a poem: 'Beck', written by the Yorkshire poet, Simon Armitage, and carved – ten minutes per letter – by stone artist, Pip Hall. It is one of seven 'Stanza Stones' – poems in stone – and located on Yorkshire hillsides in the South Pennine area. This particular poem was carved in situ, a difficult and physically demanding task for Pip Hall, requiring her to stand at least ankle deep in water on each occasion.
The stone is curved smooth by years of water and the words twist and swirl over its face. Although the poem is less than two years old, the water has already begun its erosion, grinding away at the letters; algae is building up in their crevices.
A heavy flood could cause a landslip at any point in the ravine, so there is a sense of both permanence and insecurity about this work. In this respect, Simon Armitage has said of all the Stanza Stones "They may be written in stone, but the elements they describe will eventually render them mute".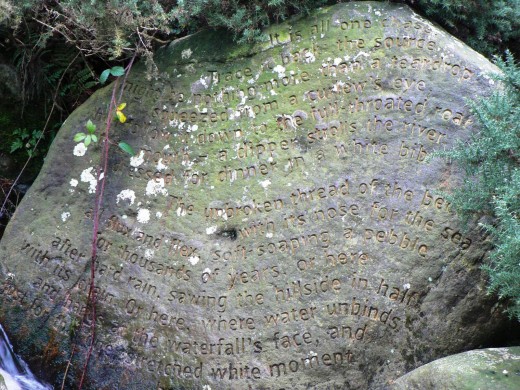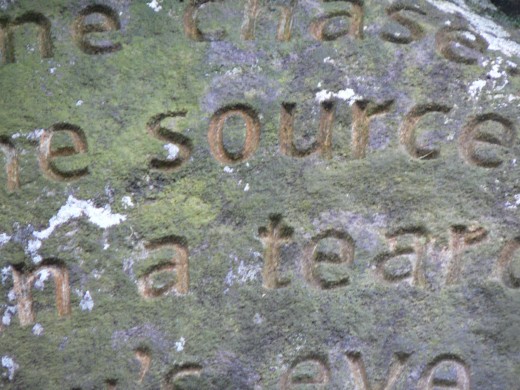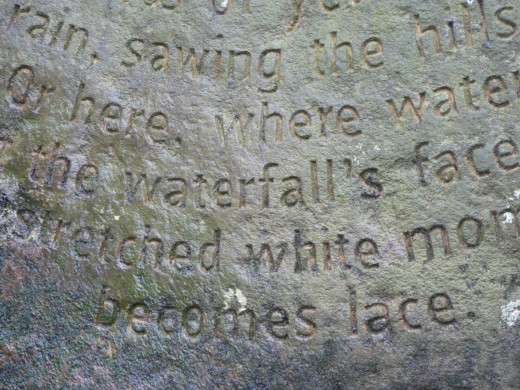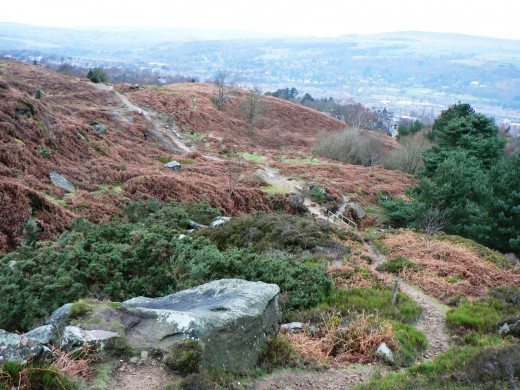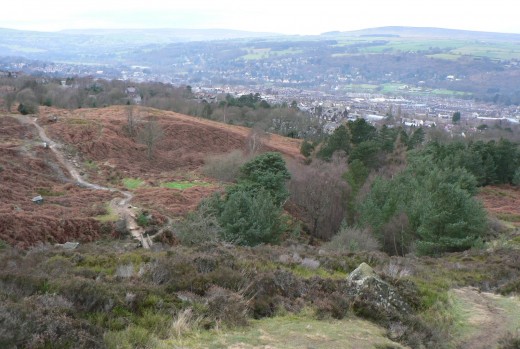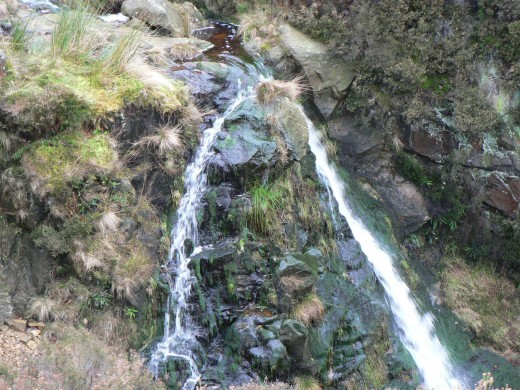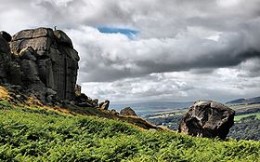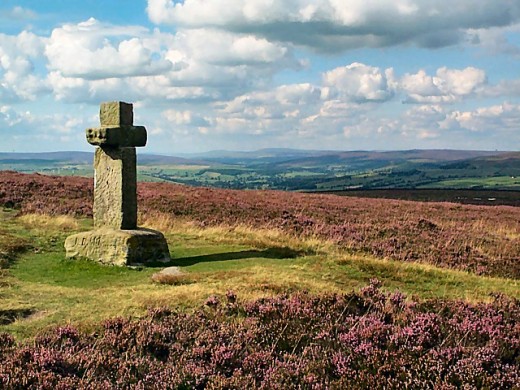 'Beck'
Simon Armitage's poem is shown below.
Beck
It is all one chase.
Trace it back: the source
might be nothing more
than a teardrop
squeezed from a curlew's eye,
then follow it down
to the full-throated roar
at its mouth:
a dipper strolls the river
dressed for dinner
in a white bib.
The unbroken thread
of the beck
with its nose for the sea,
all flux and flex,
soft-soaping a pebble
for thousands of years
or here
after hard rain
sawing the hillside in half
with its chain.
Or here,
where water unbinds
and hangs
at the waterfall's face,
and just for that one
stretched white moment
becomes lace.
Armitage captures the force of the beck after heavy rain: its "full-throated roar"; its destructive power: "sawing the hillside in half with its chain".
Yet it has beauty and beguiling charm too: the water "becomes lace" as it cascades over the rocks; and how, in its quieter moments it is: " all flux and flex, soft-soaping a pebble."
Above all, I like the image of the dipper, strolling by the river: "dressed for dinner in a white bib."
"At its mouth: a dipper strolls the river dressed for dinner in a white bib".
(Simon Armitage: 'Beck')
Stanza Stones Project
The Stanza Stones project came to fruition in 2012 after two years of planning and hard work.
It was commissioned by Ilkley Literature Festival and financially supported by a grant from the National Lottery.
There is now a Stanza Stones trail of short individual walks, or one that can be extended over 40+ miles, connecting all the stones (link below).
All, that is, except one. There is a seventh Stanza Stone with the simple inscription, 'In memory of water', hidden away on a hillside somewhere. It is yet to be discovered.
Simon Armitage
A short film: Simon Armitage talks about the challenges of writing the Stanza Stones project, his aims, and thoughts on the way the poems may be received in centuries to come. Click on the link below.
Wood Engraving of 'Beck'
This wood engraving by Hilary Paynter is one of seven reproduced in a limited edition (186 copies only) book celebrating the Stanza Stones project.
In Memory of Water contains all the poems, details of their location, and the wood engravings. It was published by Andrew J Moorhouse of Rochdale, England in 2013.
Hilary Paynter is one of Britain's most accomplished wood engraver. She visited all the known Stanza Stone locations to make preliminary sketches and drawings for her engravings.
***
Water scenes can lend themselves to wood engraving.
Have a look at six other wood engravings (below) depicting river or stream scenes. Which do you like best?
Wood Engravings of Rivers and Streams. Which wood engraver's work do you like best?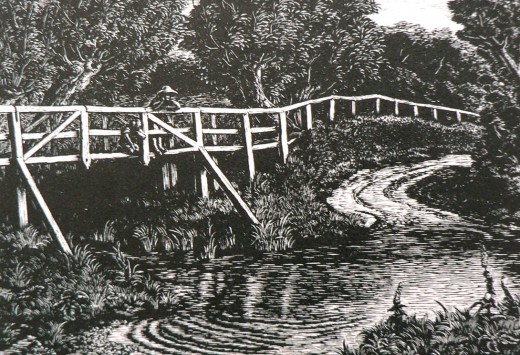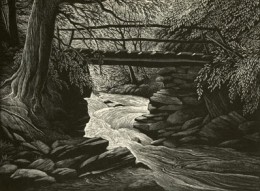 Woodbine Books
I sell books online, including 'In Memory of Water', and other books about the Stanza Stones.
---