Italy Today : The Beautiful Cookbook
I can't remember exactly when I got this cookbook but it was many birthdays ago. At first sight,I thought the book was a photo book on Italy because the beautiful photograph on the front cover looked more like a travelogue than a cookbook. As I started flipping through the pages, I was pleasantly surprised to see that is was indeed a cookbook, and what a beautiful cookbook it was!
Although I've always planned on making something from the book, I never did for the longest time. The book was just so beautiful with interesting information on the various places in Italy, it was hard to tear myself away from reading it once I started. The stunning pictures allowed me to escape my living room if only for an hour or two. The recipes tempted me with the promise of real and authentic Italian dishes ranging from a simple pasta and peas dish to a deliciously rustic pineapple cake. Just flipping through the pages made me feel like I was there.
Putting the Recipes to the Test
Last weekend I finally promised myself to make at least two dishes out of the book. I chose to make Trota Salmonata Alle Olive ( Baked Salmon Trout with Olives) for the main dish and Ananas Alle Noci In Forno ( Baked Pineapple with Walnuts) for dessert. Both of these looked easy to make and I had most of the ingredients on hand.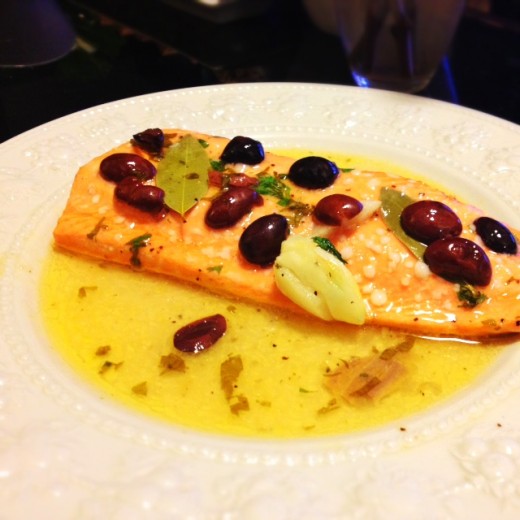 How did they turn out? Well, the salmon was surprisingly delicate and delicious in its simplicity with the olives adding the right amount of briny saltiness. Thepineapple cake tasted nothing like how I expected but in a good way. I expected it to taste like the pineapple upside down cakes I had when I lived in the America but it was nothing like it. This rustic dessert uses only 1/2 cup of sugar for the entire dish and relied on the sweetness of fresh pineapples that resulted in a light and fresh-tasting dessert. I served it with a dollop of fresh whipped cream and it was perfect! I am happy to say that both dishes turned out better than I expected and they were surprisingly simple to make.
The Bottom Line
Italy Today: The Beautiful Cookbook uses familiar ingredients with clear and simple instructions along with the beautiful pictures that the book promises.
You can find most of the ingredients in your local supermarket and if I found the recipes easy to make, I'm sure they'll be easy for any amateur cooks out there.
So far I have three books from The Beautiful Cookbook series so it's quite obvious how much I love owning these. These books are so beautiful that it's almost a sin to call them cookbooks.
They truly are the most beautiful cookbooks I've ever had the pleasure of owning and they are definitely one of the best gifts any cook or foodie could ever receive.
---
---
ABOUT THE AUTHOR