Root Beer's Beginning.
One of the first things you notice when you start researching the early history of some of our favorite products is how much innovation was developed because of the product. As interesting as the root beer itself, you'll find several firsts here in this article, some that became huge trends in our society.
Even Shakespeare enjoyed a small beer on occasion, one with alcohol added. Was his flavor root beer, I wonder? The beer he imbibed was supposedly from an American recipe. After all, root beer is considered an American original, called a small beer in the same category as sarsaparilla, ginger and birch beer.
Some of the small beer contain alcohol, some don't. It made its appearance ten years before CocaCola debuted. Surprisingly, Dr Pepper was created a year or two before CocaCola as well.
While it is thought that a pharmacist first put a concoction together for medicinal uses, his blend that included many spices, along with sarsaparilla, ginger, vanilla and birch, never became popular as a medicine. Which brings us to Charles Hires. Does that name sound familiar?
The One and Only Hires Root Beer Arrives on the Scene
Still a favorite!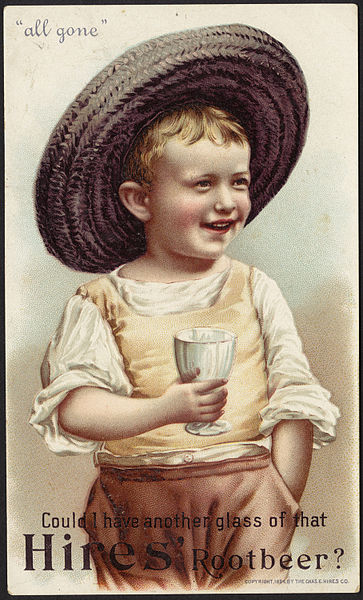 Charles Hires was another young pharmacist. Very young actually. He started his first pharmacy at the age of eighteen. He first tasted the flavor of root beer while traveling with his new wife. He managed to get the recipe, returning home to recreate its taste. He first intended its dry ingredients for a tea, but it was so well liked that he came up with a liquid concentrate that was a large variety of herbs, roots and berries.
Its popularity encouraged him to make it commercially in 1876, selling to soda fountains, and then in packets of concentrate that sold for twenty-five cents.
In that day twenty-five cents may seem a lot, but each package would make five gallons of root beer. Advertising in the local newspaper proved very successful for him-sales increased sales greatly.
By 1893 he was successfully bottling Hires Root Beer A fun fact that added to his success; he was the first person to place a color ad on the back cover of Ladies Home Journal. He was soon selling nationwide.
How About a Ten-Pack?
For a variety of choices. What a great gift idea for the root beer lover. With brands like Sioux City, Frosties, and Bull dog, how can you resist? A fun selection to do a taste comparison.

A & W Root Beer, and The Stand
Have you been to an A&W drive up? Sweet memories!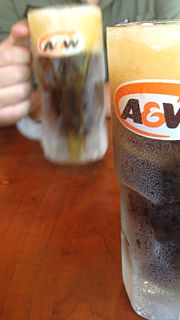 A & W first began in 1919 when Roy Allen made his version of root beer and sold it at a roadside stand in Lodi CA. It was so successful that he took on a partner, Frank Wright and In 1922 the root beer became known as A & W. Another fun fact; the second stand they built in Sacramento was the very first car hop drive-in. Even that seems pretty amazing when you realize cars hadn't been around very many years back then. Remember how popular those drive-ins were? Clever trays were manufactured that would fasten over the driver's car door and window, with the car hops delivering your food right to your car.
If that isn't creative enough for you, in 1924 Allen bought out Wright and began the very first franchise restaurants! By 1933 there were over 170 franchised locations. The increase of the number of cars on the road during and after World War 2, increased A & W sales too. After the war ended there were over 450 locations. Today they are the biggest seller of Root Beer.
Back then you could only get A&W at one of the restaurants. It wasn't sold anywhere elsewhere. Talk about limiting your own sales. Finally in 1971 after much public demand, the company began marketing to stores.
IBC root beer appears about the same time as A & W. They advertised themselves as an alternative to alcohol during prohibition and were very popular during the 20's in many restaurants.
Cute and Old Fashioned, Striped Straws
For an authentic root beer or root beer float, you will need striped straws like these.  Remember?  It reminds me of how charming the setting would be…Seated in a diner–or at the counter–perhaps sharing with a friend.
Dad's Old Fashioned
If Dad made it, it must be good!
Dad's Root beer was another popular brand, especially in the midwest. Originating in the 1930's from the basement of Ely Klapman's home, he and partner Barney Berns patented Dad's by the late 1930's. Named after the dads who made their own brew for their kids, it became one of the most popular brands in the United States during the 1940's. When the son eventually took over the company, sales went worldwide.
Dads also had a first; they were the first company to make a 6 pack to hold the sodas, something that became so common for all soft drinks and beer. They also were known for packaging Papa, Mama, and Junior sizes, something for all ages. During the 1980s its sales were second only to A&W.
Homemade Rootbeer, Recipes Included
Want to make your own signature brand of Root Beer?  Check out this clever book.  Recipes for a variety of sodas, with history and fun facts mixed in besides
Barq's and more
Did you realize there are so many different brands?
Another name you might be curious about is Barq's root beer. First started by Edward Barq in 1890 in New Orleans, the date it was first served is questionable, though probably near the end of the century. For many years it didn't call itself root beer. Partly because Hires was trying to trademark 'root beer,' and partly because it was considered more of a sarsaparilla drink, containing caffeine, less sugar, and more carbonation. This company is the creator of Orangine as well, another very popular early drinks.
There are so many other brands that you can still get if you want to try them. It seems many have bottled their own varieties, large and small. What surprises me is how much time pharmacists and others took to explore the possibilities, test so many various ingredients to come up with just the right taste. What a fun hobby that would be today. If you wish, you can make your own now and see how it compares.
Think of all the new industries that sprung up to support other businesses. From bottlers and packagers for sodas, to the company that would make the pop tops for each bottle. Then plants themselves for manufacturing on a nationwide or worldwide scale. It's cool that we still see that happen today too. When one thing is invented there always seems to be a need for other companies to provide the services it may need. It makes me wonder what will be next.
If you like Root Beer, – You need a frosty mug!
Perfect for a root beer float.  Yes, I admit,  any beer would look–and taste–good in one!
ABOUT THE AUTHOR