Who Killed Thelma Todd?
On a Monday morning December  1935, Thelma Todd's body was found. She was in a car that was parked in the garage of her lover, Roland West. It was the exhaust fumes from the Packard convertible that had caused her death.
Police rushed to the scene above the Pacific Highway between Malibu and Santa Monica. They took photographs, questioned locals and discovered that Thelma had bruises and that her face was splattered with blood. Was this a murder scene?
Who was Thelma Todd?
Few people in America in the nineteen-thirties didn't know her name. She was a Hollywood star who had been in movies with popular acts such as Laurel and Hardy and the Marx Brothers. She was known as 'The Ice Cream Blonde'.
When the 'talkies were developed in the late twenties, many movie stars could not survive because they had the looks, but not the voice. Thelma was an exception though and she specialised in the 'wise-cracking dame' roles.
But who would want to kill her?
Roland West
Thelma was divorced.  Her ex-husband was producer and agent Pat DiCicco, known to be a violent man. She had several affairs after her marriage and also had  live-in lover – director and married man Roland West. Together they had started a business – the Thelma Todd Roadside Rest café on the Pacific Highway. They had unusual living arrangements upstairs. There were two apartments – they had one each – which were connected by sliding doors. West was still married to his wife actress Jewel Carmen and owned a home just behind the café, up a series of steep steps.
But the affair was beginning to fade away. West was eighteen years older than Thelma and she was without a doubt a party girl. She had been at a party – without West – on the Saturday night before she died. Her ex-husband had been there too and words had been exchanged. She had too much to drink – not unusual – and was driven home by a chauffeur.
Sid Grauman called West who was at home in his apartment to let him know that Thelma was on her way home. But Thelma and West had argued before she went to the party and he had locked the doors so Thelma couldn't get in.
At the inquest several suspects emerged as did some very confusing evidence:
West was suspect number one. He testified that he had been awoken at about 3.30 am by his dog barking and heard someone – he assumed it was Thelma – moving about in the adjacent apartment
Thelma had rowed with her ex-husband at the party and he was known to be a violent man. Could he have followed her home to continue the argument?
The party had been given by Ida Lupino. She testified that Thelma had told her that she was having an affair with a man from San Francisco.  Could he have been involved?
Jewel Carmen, West's wife, told the court that she had seen Thelma is a car with a -foreign-looking' man in the afternoon on the Sunday.  Could this 'woman scorned' have killed Thelma? The police had estimated that Thelma was already dead at that time
Similarly, Mrs. Wallace Ford said she had received a phone call from Thelma that afternoon
Her body was discovered by her maid, Mae Whitehead at about 10.30 on Monday morning. What was Mae doing going into the garage? Was she implicated? Was she in someone's pay? She also testified that she had personally given Thelma her own key to a side door so that fact that West said he'd locked Thelma out didn't mean that she could get into her apartment
Ernest Peters, the chauffeur who had driven her home, reported to the newspapers that she had asked him to drive quickly because she was afraid and had received threats. Yet she had not wanted him to escort her to the door when she arrived home
Roland West further claimed that Thelma had recently been diagnosed with a heart condition and would not have walked to the garage where her body was found (see map further down the page)
When the police entered the garage and found Thelma's body, the car was not running.
The police estimated that the car had not been running for at least 20 hours and there was still gas in the tank
The investigation proved only that Thelma Todd had died because of the exhaust fumes. Here is the rough chronology of the case:
Saturday 14th December:
In the evening, Thelma Todd left for the party after having had an argument with West
Sunday 15th December:
She was driven home in her hired chauffeur-driven car, arriving at about 3 am
About half an hour later, West claims to have heard her in her apartment
The police estimated that her death had taken place on that morning
About twelve hours later, she called Mrs Ford on the phone
Shortly afterwards Jewel Carmen claimed to have seen Thelma in her car with a man
Monday 16th December:
Thelma's maid found her body in the car in the garage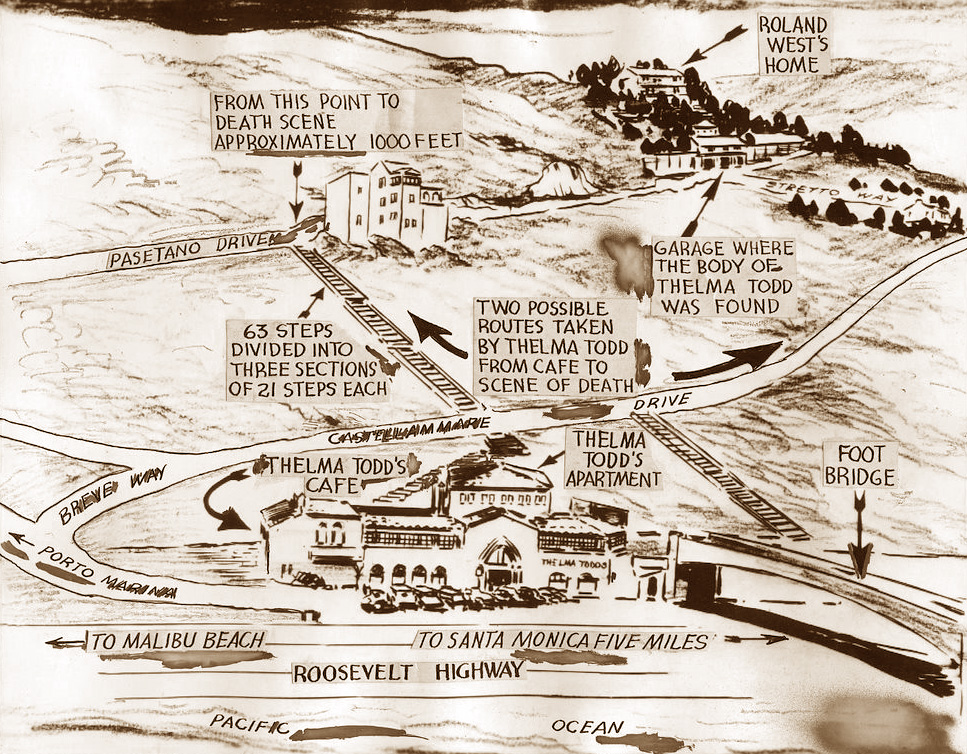 So who did kill Thelma Todd?

No-one was ever prosecuted. But Roland West was assumed by many to be guilty and his career was ended. But there is another theory. Thelma was evidently approached by gangster Lucky Luciano who wanted to open a gambling establishment above the café. She turned him down
It's said that several people knew only two well that she had been murdered by his cohorts but naturally no-one, including authorities, would accuse him for fear of reprisals. But in David Niven's memoirs, he quotes fellow actor Clark Gable telling him that:
"Thelma Todd was knocked off by gangsters".
ABOUT THE AUTHOR