If Jeremy Clarkson offends you, don't watch him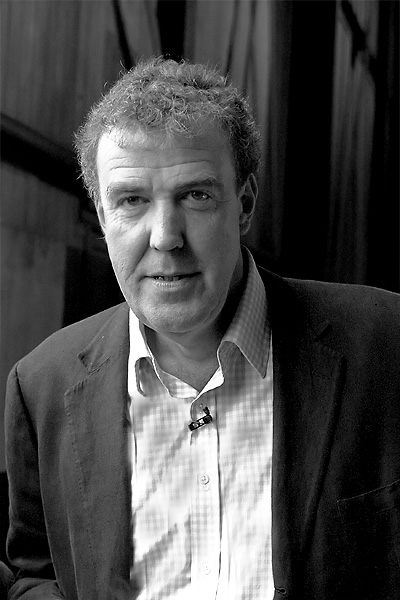 Have you heard about the current Top Gear malarkey? Just a quick explanation – Top Gear is a British television show which combines humour with information about cars.(Do not confuse this with the watered-down US version).
It has been described as 'edgy'. This is because its presenters, the foremost of which is Jeremy Clarkson, are normal blokes.
Their so-called controversial opinions are those that you would hear in any pub or street. They do not pander to political correctness and this probably explains why the programme is the most popular factual television show throughout the world.
And they, or rather Clarkson, are in trouble again.
You can read some of my previous comments – and a former controversy – here. Before I go any further,I'll tell you the latest news. This is that the BBC, the company that makes the programme, has suspended Clarkson due to what they refer to as 'fracas' with a producer. Later information suggested that he 'threw a punch'.
How pathetic is that?
What's more, the BBC have announced that they will not be showing the next episode of Top Gear and,quite possibly, none of the remaining episodes of this season.
That's called 'shooting yourself in the foot', isn't it? It's also called 'why punish the millions of people who watch the show'.
Let's say for moment, that Jeremy Clarkson did indeed deck a producer. (And 'throwing a punch' doesn't actually mean that he clobbered the chap). Well, blokes fight. In the pubs, in streets, in playgrounds, on picket lines, at demonstrations, even on the TV as entertainment, blokes fight.
Actually, nations do too. But give a bloke a uniform, a lethal weapon plus a handy excuse and that's acceptable, is it?
Punching a producer (if indeed that's what happened) who might well have deserved a slapping, isn't exactly napalming a village of women and children, is it?
They say that Clarkson had been warned; in fact, that he was on a 'final warning'. Yes, he has done and said things (supposedly) in the past that have been controversial. Are we supposed to have a world where no-one dares speak for fear of being controversial? Every time  'respectable' politician opens his mouth, isn't he or she likely to utter something controversial?
And why do the BBC hold no responsibility in this matter?
Top Gear is a mixture of studio scenes filmed in front of a live audience and pre-recorded sessions. The last controversy was about a trip the team made to Argentina. (If you missed the link above,I wrote about it here). This caused, in the BBC's words 'an international incident with the country. What I'd love to know is how, on this pre-recorded segment, it was the fault of the presenters and that the producers, editors, camera crews, writers and the whole BBC organisation bore no responsibility for a segment that had been pre-recorded ages before it was shown on television.
Sometime before that, again on a pre-recorded segment, Clarkson was accused of using a 'racial slur'. It was  a so-called racial slur that I've never heard before.  And coming from an multicultural English background to the multicultural Floridian society, I thought I knew them all.  I imagine others were totally unaware that this word was a racial slur. Well, we all know now. If the complainers had kept quiet, we would have never known. So that was pointless, wasn't it?
I suspect that there are people who sit in front of the telly specifically looking for something to complain about.
But this latest 'fracas' didn't happen on TV. No-one was hurt (well, maybe the producer got a black eye, who knows? Big deal.) There are those who complain that Clarkson should behave because he's 'role model'. When we have 'celebrity's scandals every day, that's a non-argument.
Is this a BBC publicity stunt?
I can't help but think it is.
Not showing the remainder of the Top Gear series on the television is harming  Jeremy Clarkson how, exactly?
But what about the people worldwide who love to watch the programme every week? They didn't hit anyone. This 'fracas' occurred in private.  No-one would have heard anything about if the BBC hadn't made a fuss. So why did they?
Jeremy Clarkson is a journalist who has become an entertainer. His job is to entertain, by definition. If you find him entertaining, watch him of television and read his books. If you don't, then no-one is pointing a gun at your head.
I imagine that other British television channels are rubbing their hands with glee and hoping that Clarkson leaves the BBC so that they can employ him and get viewing figures that they have only been able to dream about.
---
 READ JEREMY CLARKSON:
---
 ABOUT THE AUTHOR