Valentine Things To Make And Do Is A Lovely Craft Book For Kids
Valentine Things To Make And Do is my families most loved Valentine craft book ever! With 17 fun and easy Valentine things to make and do using the most basic of craft supplies, I have never been short on ideas for doing Valentine crafts with my kids or making last minute gifts.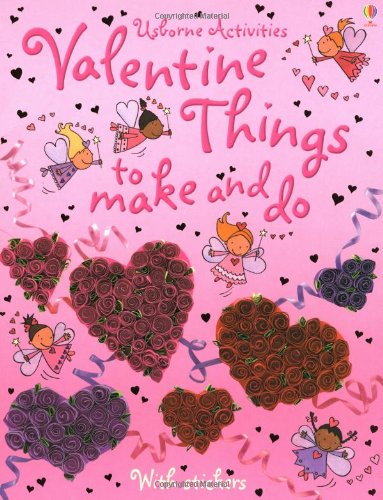 The crafts are easy for kids of all ages to do and are fun for adults too. I have even used a couple of the card ideas to make for a few of my closest adult friends. None of the crafts require any obscure materials or require a special trip to the store for supplies. All of the crafts are made using a combination of colored papers (I like to use cardstock), scissors, glue, glitter, ribbon, paint, pipe cleaners, crayons and tinfoil.
The crafts have step-by-step illustrations and instructions that are simple and easy to follow along. Every craft has bright and vivid photos of the finished product, with examples of different variations and patterns for each one.
I bought this book nine years ago when my kids were 4 and 8 and we have used it every year since, making almost all of the crafts included in the book, some more than once.
My favorite craft from the book is the little glitter tinfoil hearts. I made them with my kids a few years back and I plan on making them again this year to fill a couple of clear glass vases. They are so pretty and decorative.
Valentine Things To Make And Do makes a wonderful addition to a collection of craft books and is a lovely Valentine's Day gift for children, caregivers and teachers. I recommend this book for families and anyone who works with children who are looking for cute and simple Valentine crafts to do with children.
Note: Some editions may include two pages of glittery stickers for kids to decorate their crafts with. Not all editions include the stickers, so if you are buying a used book or an earlier edition, you may not get the stickers. The edition I bought through the school Scholastic book club did not include the stickers.
---
ABOUT THE AUTHOR