Vegetarian Lettuce Wraps
Have you tried lettuce wraps yet? Pretty much anything that you can put in a sandwich or a tortilla works well in a lettuce wrap too. So if you are cutting back on your bread or carbohydrates, they make a great substitute.
You might have seen my article on Chilled Lettuce Wraps  here on Jaquo. These are three of my favorites. They were definitely not good choices for vegetarians. So today's wraps are. The first recipe does include dairy, though you could eliminate it for a still lovely fresh taste.
It is also nice to have hot options. While the chilled wraps are excellent, a hot meal seems more satisfying sometimes, especially in the chilly months. It's fun to combine a hot and a cold one too. It's like having a salad with your main course, but fork not required!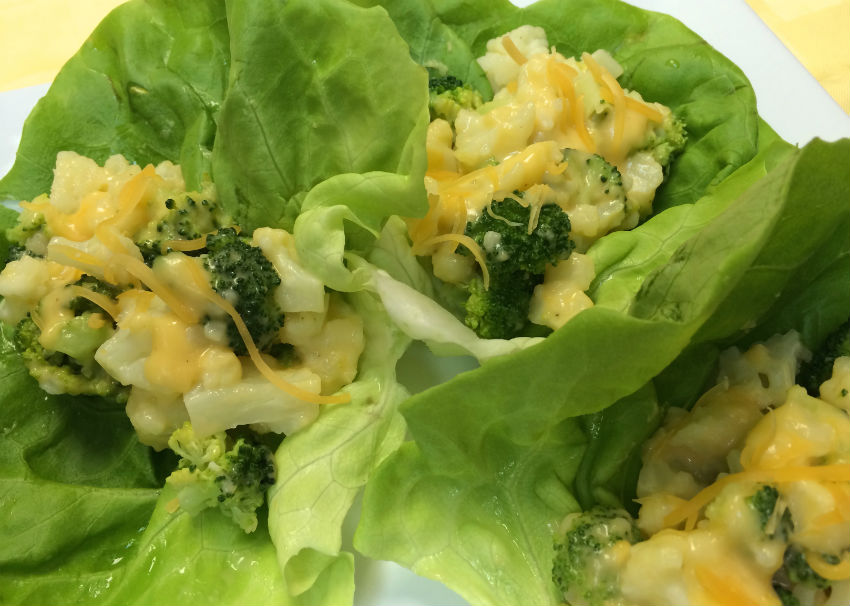 Cauliflower Broccoli Cheese Wraps
This particular wrap is so satisfying. It is a healthy version of comfort food! Partly because of the cheese, but also because of the cauliflower puree sauce that surrounds the fresh cauliflower and broccoli. Of course the recipe can be made without either, but I hope you will try them this way first. It doesn't take very much of the puree to provide a nice, flavorful coating, so if you have some left save it! You can use it over pasta as an Alfredo substitute, or toss it in with your Alfredo sauce to lighten it and stretch it. It is tasting over any dish, whether a casserole or something like a baked chicken breast. Use it to thicken a gravy or sauce. It's versatile, light, and very tasty.
INGREDIENTS
2 tablespoons butter or olive oil
2 to 3 cloves garlic, minced
5 cups cauliflower, broken or cut into bite sized pieces
2 to 3 cups water or broth
½ teaspoon salt
pepper to taste
¼ to ½ cup milk
2 cups broccoli, cut into bite sized pieces
½ cup onions, chopped (optional)
½ to 1 cup shredded cheese
Butter lettuce (or another option)
INSTRUCTIONS
Prep all the ingredients.
Salute the garlic in butter or olive oil over low heat for 4 minutes. The garlic should be just softened.
In the microwave or in a small saucepan, steam broccoli until barely soft, then drain and set aside.
Bring water or broth to a boil then add cauliflower.
Cook covered for 4 to 5 minutes.
At that point remove 2 cups of the cauliflower and set aside.
Continue cooking the remaining cauliflower until it is tender.
Remove the cauliflower to your blender or food processor, retaining the broth for later.
Add ½ cup of broth, the sautéed garlic and butter or oil, milk, salt and pepper.
Puree until sauce is creamy and smooth.
You might need to add more of the water/broth or milk until it reaches the consistency you want.
Puree may take several minutes, depending on your machine.
Once the puree is done, add the cauliflower that was not pureed to the broccoli.
Add enough sauce to coat, mixing gently while heating on low.
If you would like a cheesier taste, add ¼ to ½ cup of cheese and melt.
Scoop into lettuce leaves, sprinkle with cheese, and roll.
Serve immediately.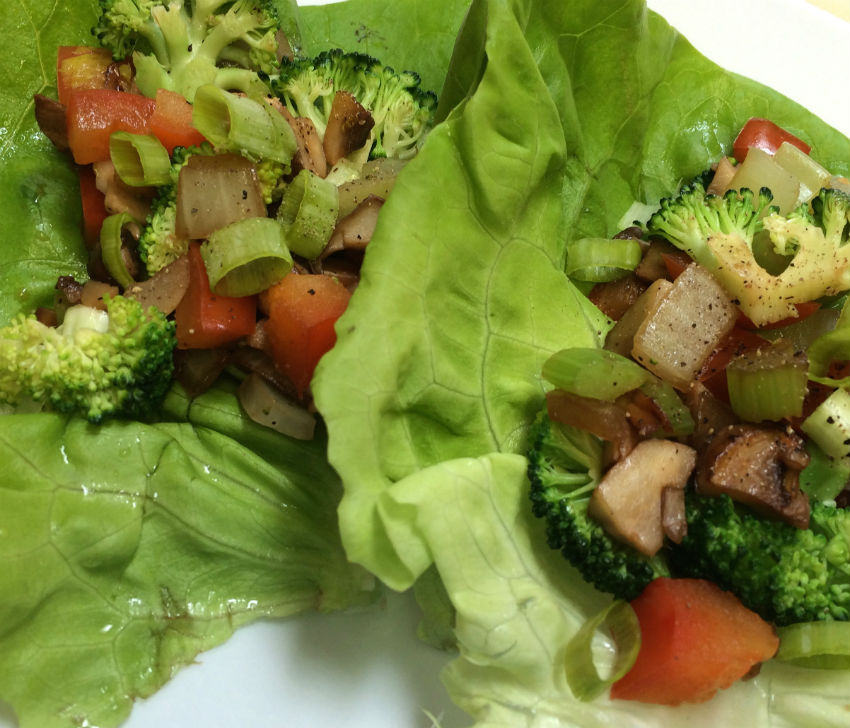 Vegetable Saute Wrap
An easy saute is all that is required to make these tasty vegetarian wraps. Pick any of your favorite vegetables to include. I found the olive oil and garlic added enough flavor. If you want more, try soy sauce instead of salt, or tabasco sauce. The flavor and crunch of each vegetable in this wrap gives you a wonderful taste sensation in every bite.
INGREDIENTS
2 tablespoons olive oil
1 to 2 cloves of garlic, minced
1 onion, chopped
2 stalks celery, chopped
1 red pepper, chopped
3 to 4 mushrooms, chopped
2 cups broccoli
Salt and Pepper
INSTRUCTIONS
Assemble ingredients.
Place lettuce leaves on each plate.
Heat olive oil in a large skillet.
Saute garlic for 1 to 2 minutes.
Add in the rest of the vegetables, and saute until just softened.
Season with salt and pepper.
Scoop into individual lettuce leaves.
Serve immediately.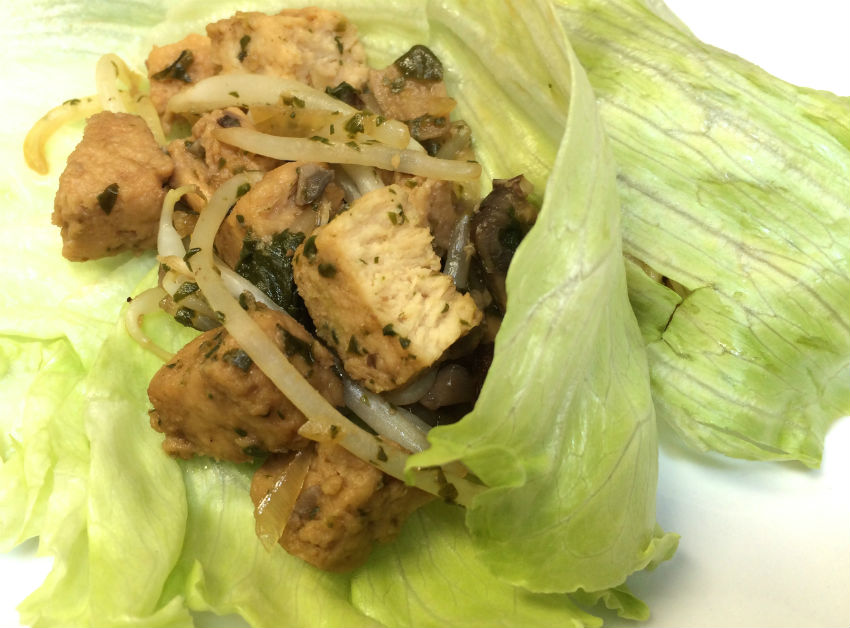 Asian Ponzu Wraps with Soy Chicken
Another thing I like about Ponzu sauce is the ingredients used are often those you have around.
1 tablespoon olive oil
1 bag bean sprouts (½ pound), roughly chopped
1 stalk celery, diced
¼ onion, diced
4 mushrooms, diced
1 clove garlic, minced
1 cup spinach, chopped
1 head butter lettuce, or lettuce of choice
6 to 8 ounces soy chicken, thawed
PONZU SAUCE INGREDIENTS
4 tablespoons low-sodium soy sauce
2 tablespoons fresh orange juice
2 tablespoons fresh lemon juice
1 tablespoon sesame oil
1 tablespoon sweet wine
1 green onion, finely chopped
¼ teaspoon crushed red pepper (optional)
INSTRUCTIONS
Assemble the ingredients for the ponzu sauce.
Combine and refrigerate for at least 30 minutes.
Assemble and chop the vegetables for the wraps.
Place lettuce on each plate for one, two or three wraps.
In a good sized skillet, saute garlic, onion and celery for 2 minutes.
Add mushrooms and soy chicken. Sauce an additional 2 to 3 minutes.
Add in sprouts and spinach and the ponzu sauce, blending thoroughly.
Saute until sprouts are softened, stirring often to mix.
Scoop a spoonful onto each lettuce leaf.
Serve immediately.
You can see the options available. Try it for yourself. Next time you want a sandwich, pull out some fresh, crisp lettuce leaves instead. My favorite is butter leaf, but any of them will work.
One of the favorites from the last article, the Bacon, Spinach, Tomato and Avocado (The BSTA), is so easily adapted to vegetarian, as you can see in the photo here. Leave off the bacon and you still have the delicious combination of spinach, tomato and avocado. Their tastes seem to belong to together. Sprinkle with a little salt or better yet, some lemon juice. Of course you can add vegan bacon if you prefer. It is so good!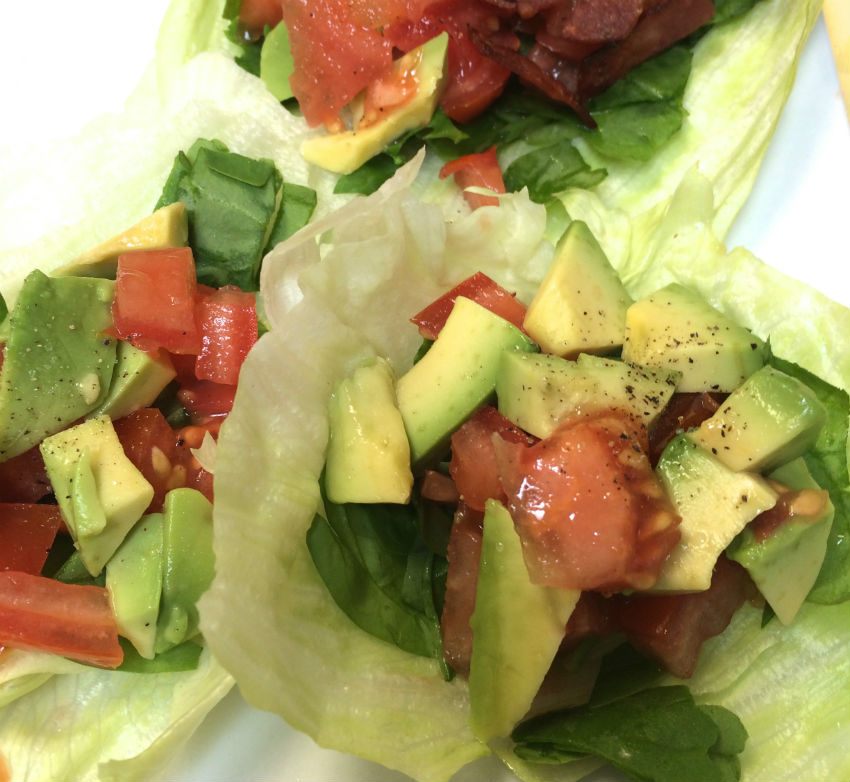 ---
ABOUT THE AUTHOR