Victorian food: Stodgy?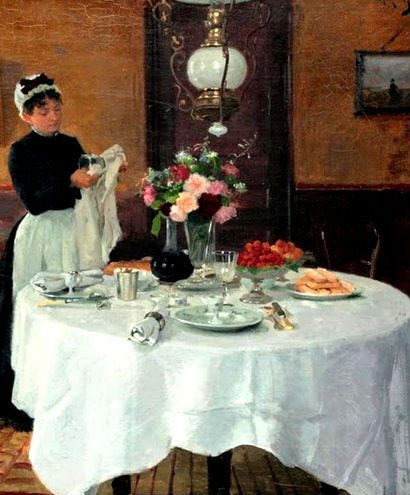 'Stodgy' is a word that is often used the describe the people who lived in the Victorian era.
It's used to describe their attitudes and also their food.But was that really the case?
We've traditionally been led to think that yes, Victorian food meant tables groaning with stodgy pies and puddings but in fact, this is far from the reality.
Take vegetarianism for example.
The first vegetarian restaurant in the UK opened in Victorian times, in 1849, and the popularity of a meat-free diet quickly spread. There were also several vegetarian cookery books published at that time.
Far from the food we think we know about the Victorian era – stodgy puddings with unappetising names such s spotted dick – one of the most popular foods in England in the Victoria era was curry.
It remains the most popular food in England to thisday.
In fact, London's first Indian restaurant was opened before the Victorian era dawned – it was opened in 1809 (that's fifty years before the first fish and chip shop).
Located in Portman Square, it was run by a Mr Dean Mohamed.
Often, ethnic restaurants begin their popularity because they cater to the local immigrant population- that wasn't the case with the early Indian restaurants.

The British were already huge curry-eaters because of the many people who had lived or worked in India.
Even Mrs Beeton, who notoriously couldn't cook (her recipes were written by her domestic cook) and who ate only bland food (she had a delicate stomach) made sure that curry recipes were included.
Because books were being mass-produced by the Victoria era, we can get some idea of how people ate. We see recipes for dishes we would consider tasty and healthy today; dishes such as spinach soufleé, buttered chervil, ragout of artichokes and coconut soup.
The Vegetarian Society was set up in 1847 and amongst its founders were Dr Thomas Allinson who was  proponent of wholemeal flour – you can still buy the bread and flour made by his company today. A fellow founder was Dr Anna Kingsford who was a campaigner for abolishing testing on animals.
Neither of these people seem to fit in with the 'stodgy' description.
---
 ABOUT THE AUTHOR