Hooked on What's My Line from the nineteen fifties and sixties.
I truly could spend hours watching old videos of the 1950s and 60s television show, the panel game What's My Line. It's like another world. Well, I guess 1950s New York was another world. Take a look at this great photograph.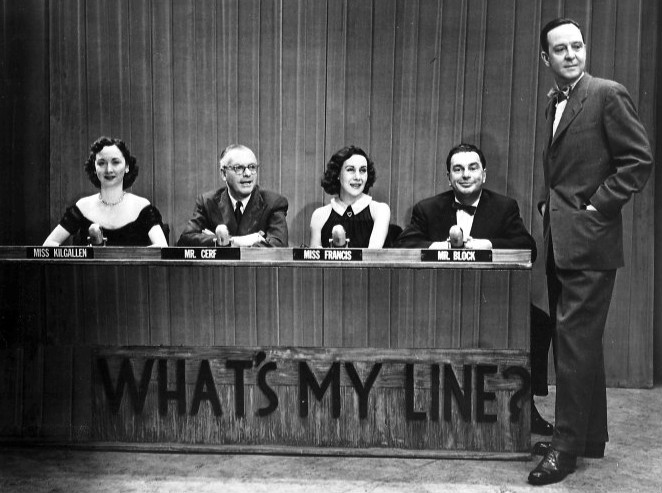 The panel and the host would dress as though they were going out for the evening. Bow ties were usual for the men and the ladies on the panel would dress in evening wear with fine jewellery. The level of politeness was something we rarely see these days.
Although they would call each other by their first names sometimes, they were usually referred to as 'Miss' or  'Mr'. (Despite the fact that the two regular panel 'misses' were both married ladies). When contestants spoke to the panel, they would often use 'ma'am' or 'sir'.
So polite
Some other features that we would probably not see on game shows today:
The host, Mr Daly, would invariably pull out the chair for lady contestants and ensure that all guests were seated before he sat down himself
When the contestants left the stage, they would shake hands with the members of the panel and the men would stand politely
John Daly, when explaining further about a contestant, would incline his head and say,'with your permission…'
The panel speak clearly and well — there's not an 'awesome' to be heard
Sometimes children were guests and they too were delightfully polite. In the clip below, regular Panellist Dorothy Kilgallen had just given birth to her third child and her two older children were 'mystery guests'.See how, when they shake hands with the panel, the little boy gives a polite nod when shaking hands with the ladies on the panel and how the little girl gives a mini-curtsey.
Imagine children today behaving like that. But despite the formality, the show was not prudish. See the clip below where the panellists have to guess a lady's occupation. She runs a nudist resort.
To give you some idea of the prestige of the panellists, Dorothy Kilgallen had been to England for the coronation of Queen Elizabeth II. At the end of the clip above, she models the dress she had worn.
Celebrity mystery guests
Probably everyone's favourite part of the show was the mystery guest segment. The panel would be blindfolded and have to guess the identity of the celebrity guest from asking them questions. I imagine for viewers at the time it was interesting to see their favourite movie stars disguising their voices so as not to be recognised.
These days, I think a huge part of the fun is seeing legendary stars when they were in their heyday. Here's Elizabeth Taylor.
And here are Paul Newman and his wife, Joanne Woodward. Goodness, Paul Newman was gorgeous in those days 🙂

Another husband and wife team – Lucille Ball and Desi Arnaz.
The panel
The panel featured three regulars, the fourth member being a guest panellist. The regular members were:
Arlene Francis
Bennett Cerf
Guest panellists included:
Frank Sinatra
Tony Randall
David Niven
Danny Kaye
Jerry Lewis
Martin Gabel
Steve Allen
ABOUT THE AUTHOR