Who was Woolf Barnato?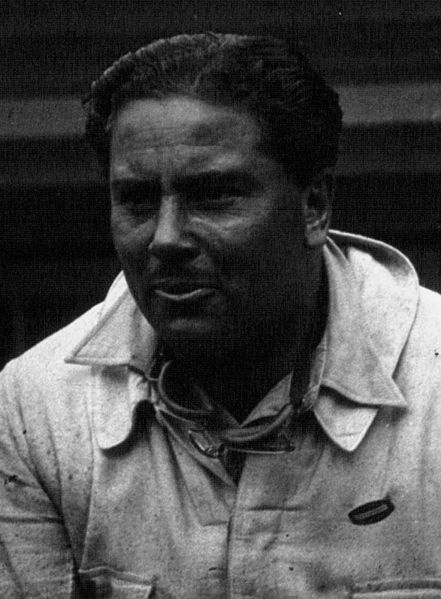 When Woolf was just two years old, he became the heir to a vast fortune. His father had been a Jewish shopkeeper made good – he made a fortune from South African diamonds and gold.
Unfortunately Barnato Senior did not enjoy his wealth for long as in 1897, he was lost overboard off the coast of Madeira at the age of forty six. Just what happened will never be known but foul play was suspected, as was suicide. But nevertheless, he left young Woolf, or 'Babe' as he was known, a considerable fortune.
This left the way open for Woolf to indulge in the sport he loved the most, motor racing.
Of course, then as now, motor sport was an expensive occupation and back in the days when Woolf started competing, racing cars was without doubt a rich man's sport.
But in the case of Woolf Barnato, he had the talent as well as the required wherewithal. He invested in the somewhat ailing company owned by W. O Bentley and became one of Bentley's favourite drivers –  on merit, not because of his investment.
He came third in his very first race, won the Le Mans race on three occasions and also revelled in challenges. Perhaps his most famous was racing the French Blue Train from the Cote d'Azur to Calais. With fellow-driver Dale Bourn, he arrived at Calais four hours ahead of the train. He was, of course, indulging in the then-popular English occupation of humiliating the French people – who were inordinately proud of their 'fast' modern train — but he went a stage further.
He claimed that if he set off in his car from Cannes at the same time as the Blue Train, he would arrive in London before the train even reached Calais. He succeeded.
The love life of Woolf Barnato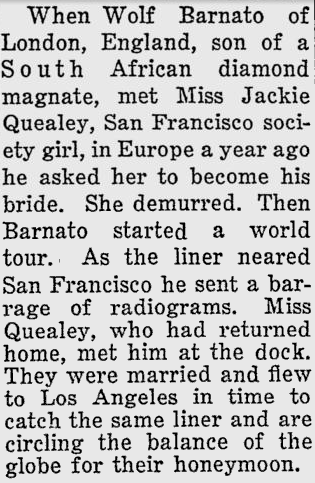 As the cutting on the right shows, Woolf stopped at nothing when pursuing his paramours.
But the Miss Jackie Quealey he was pursuing (and ultimately won) was not his first wife. He had been married to Dorothy Maitland, an American débutante and the couple divorced in earlier in the same year he married Jackie Quealey.
He and Dorothy had two daughters, one of whom was Diana, the first Englishwoman to break the sound barrier and a fearless transport pilot during the Second World War.
With Jackie Quealey, Woolf had two sons only to acquire another divorce when the marriage was fourteen years old. Both his wives had been wealthy and his third was no exception – she was Norwegian and an heiress*.
Unlike his co-driver Bourn, who was killed in action in the Second World War, Woolf served in both wars and survived. But in 1948 he had an abdominal operation in a London nursing home. He appeared to be recovering well but died the following day at the age of only fifty two.
See original Le Mans footage from 1929 featuring Woolf Barnato
* Please see the comments section below.
---
ABOUT THE AUTHOR