This is a recipe that I found in an old newspaper dating from the nineteen fifties. It had been supplied to the paper by a young Japanese woman, Reiko Takeda, who was an air stewardess flying regularly between her home country and the USA. She cooked this dish on a hibachi but I find that a charcoal grill works very well and gives the seafood that lovely smoky flavour.
The shrimp need to marinate for a couple of hours before you cook, as does the basting sauce, but these take only a couple of minutes to prepare. Leaving the flavours to mingle for about two hours in the fridge is about right. You can leave it longer though if you wish. Then they need only about five minutes on the prepared grill.
The original recipe calls for these delicious grilled shrimp to be served with boiled rice although I find that noodles are quicker. Depending on the make you choose, they will cook in the same amount of time that the shrimp require on the grill. I like to serve a crisp green salad too and to garnish the dish with fresh herbs.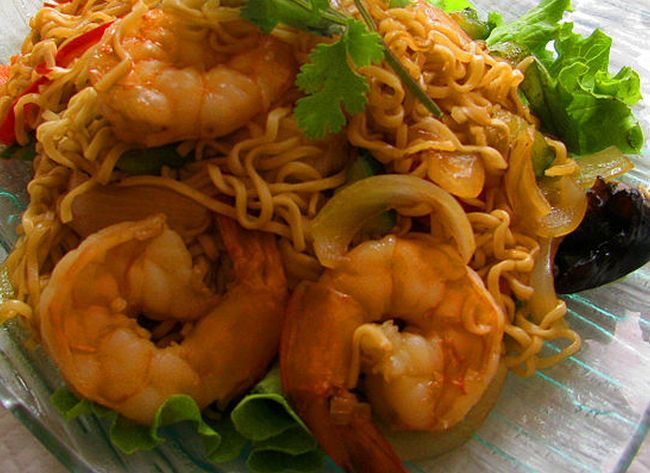 Ingredients
1½ lbs shrimp, shelled and cleaned
2 cups salad oil
1 medium onion, grated
1 clove garlic, chopped
Pinch of oregano, basil and ground cloves
½ teaspoon celery seed
½ teaspoon chili powder
½ teaspoon salt (I omit this)
For the sauce - 1½ cups chili sauce
½ cup tomato juice
½ teaspoon chili powder
1 teaspoon Worcestershire sauce
Dash tabasco
1 clove garlic
1 - 3 cups white wine (or water)
1 tablespoon lemon juice
1 bayleaf
1 clove
Instructions
Shake the sauce ingredients together in a jar.
Cover and refrigerate.
Place the shrimp in a bowl and mix in the remaining ingredients.
Allow to marinate for at least two hours.
Place the shrimp on a hot charcoal grill for five to eight minutes.
Baste from time to time with the sauce.
Serve with boiled rice or noodles.
ABOUT THE AUTHOR