A Salad Using Top Foods for Brain Health.
The best thing about salad is that anything goes. I can't believe how many different recipes there are–all that look delicious–with ingredients I never would have considered. It is also a pleasure to pull out everything in the crisper drawers in the refrigerator and start chopping. There is no wrong ingredient!
The salad I prepared here was designed with a specific goal, even though it has a lot of the usual ingredients. As an Alzheimer's and Dementia Contributor online, it's been fascinating to research ways to reduce the risk of the disease. The journey I've been on with my sweet mother has inspired me to learn more about preventing Alzheimer's disease. And there are many ways to do that.
One of those ways is to eat foods that are good for brain health, like the ones shown in another article I've written,Top Foods for a Healthy Brain. Hence, this recipe!
In one salad you can easily get several servings of vegetables in one sitting. Fruit as well. Sliced oranges, grapefruit, apples, or peaches. Berries of any kind. They all add a delightful taste to any salad.
If you have kids that aren't crazy about salad, a favorite way to encourage them is to build your own salad bar. Put peppers, olives, carrots, celery, radishes, along with the other veggies in the recipe into little bowls that kids can choose from. So often if kids can pick their own, build their own plate, they have more of an interest in eating it! Add a variety of dressing too, besides the one I shown here. Ranch especially is so fun for dipping!
It all sounds so good. I know what I'm having for lunch!
A Salad for Brain Health
The Nearly Perfect Salad for a Healthy Brain
In this salad, I've combined most of the best foods for your brain. The only ones I've left off are grains and salmon. If you are not a vegetarian, salmon chunks taste wonderful in the salad too, especially seared salmon. My favorite way to fix salmon is with lemon and capers, but with horseradish or wasabi comes in a close second. The tang that adds to the salad is so tasty.
Spinach, blueberries, walnuts, sunflower seeds. beets, avocado, garbanzo beans, olive oil in the dressing…all these items are shown to affect your brain in various ways that promote health and thus, lower your chances of dementia.
Of course, I had to add tomato and onion too. Zucchini (or another squash), cauliflower, celery, cabbage, or most other vegetables would crunchy additions as well. I've included basic quantities for each item, mostly for a shopping list. You can make your salad as big or small as you like, with more or less of any ingredients.
You can see how easy it will be to eat your way to a healthier brain.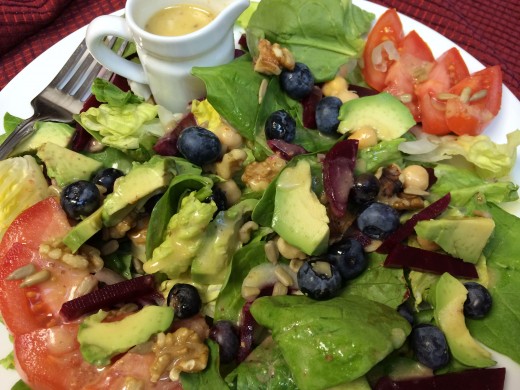 Ingredients
1 package Spinach
1 package Lettuce
2 Tomatoes, sliced or chopped
1 Avocado, chopped
½ Onion, chopped
½ cup Walnuts, chopped or halved
¼ cup Sunflower Seeds
1 to 1/1/2 cups Blueberries
1 cup Beets, canned or cooked, sliced or chopped
½ cup Garbanzo Beans
Salad Dressing, recipe below
Instructions
Tear lettuce if not prepackaged.
Slice or chop the vegetables.
Assemble in a large salad bowl, or in individual bowls
Toss with Cider Vinegar dressing (recipe below) or with you preference.
Oil and Cider Vinegar Salad Dressing
Even the salad dressing in this recipe is good for your brain! Olive oil seems to be the best choice for our entire body. Cider Vinegar too is good for a variety of health issues. I do love the bite that Cider vinegar adds to anything!
Normally I wouldn't find a photograph of salad dressing particularly appealing. I had to include it with this recipe though because of how it mixed! I learned just recently that whisking or blending the oil into the other ingredients gives it a chance to attach to the vinegar and all. As a result it stays blended just like you see in the picture. I made enough to last several days, and it's still blended like the picture shows. It hasn't separated.
I used my new favorite little appliance, My Ninja Master Prep Blender, to quickly blend the dressing. I couldn't believe how fast or how well it worked!
With dressings, as with salad, you can add anything you like. I used herbes de province, but thyme, oregano, basil, chives, whatever spices you like can be substituted. If you aren't fond of cider vinegar, the dressing is wonderful with either balsamic or red wine vinegar too.
Experiment until you find your favorites, and enjoy every bite!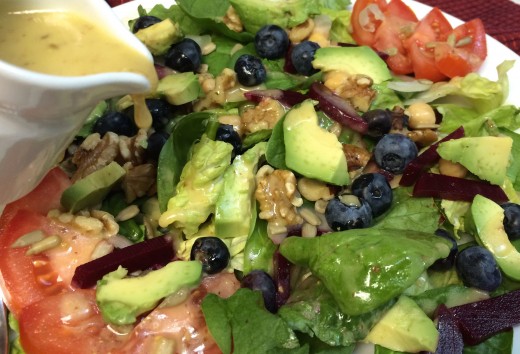 Ingredients
¼ cup vinegar cider
½ cup extra virgin olive oil
1 tablespoon agave or honey
1 tablespoon grainy dijon mustard
½ teaspoon herbs de Provance, Or spices to your liking
Instructions
Combine all ingredients except olive oil in blender (or bowl).
Blend until thoroughly mixed.
Add olive oil. If whisking by hand, add oil gradually.
Mix until oil and other ingredients are thoroughly combined.
Refrigerate.
Serve with "The Healthy Brain Salad.
The Ninja Master Prep Pro
I can't seem to say enough about this incredible small kitchen appliance. I've never had a blender or chopper that worked so efficiently and effectively. It has proven up to the task for every single thing I have tried.  After trying other blenders, I can't get over how much better this works than most! And it's so affordable too. I LOVE it!
If you want to read more about it, you can read my review, The Ninja Master Prep Professional is the Best!
The thing rocks!
Dry Greens Quickly with A Spinner
My favorite salad spinner. I had no idea how well a spinner worked! I'm convinced now!  Very easy to use and to clean.
Cutting Sheets are So Handy
These are so helpful (if not essential) to easier cooking! I used to use paper plates that would easily bend after chopping, but they would usually get too soggy and tear before I was done. The flexibility of these thin cutting boards is definitely a plus.
I love these for chopping. They fit anywhere, and you can fold or roll them a bit to pour the chopped items right into the pan. They don't take up much space either!
ABOUT THE AUTHOR